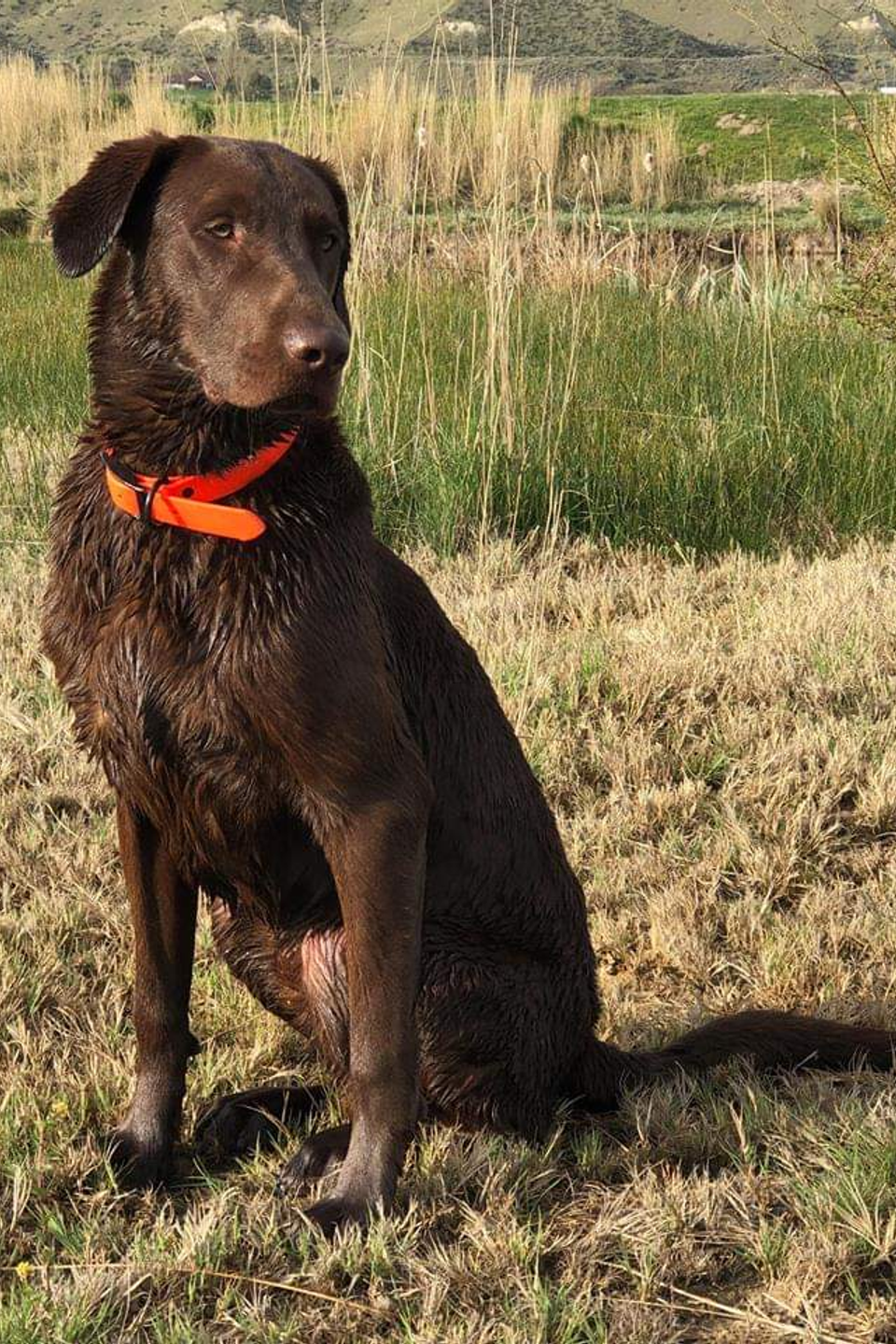 Our UKC Registered Studs Produce the Best Labrador Gun Dog Puppies
Almost two decades ago, Country Fowl Retrievers owner Kimberly Bertalotto set herself the goal of producing retriever gun dogs of excellent genetic quality.  She wanted to breed dogs that are a pleasure to train and to compete in hunt tests. She dreamed of breeding that once-in-a-lifetime retriever gun dog who impresses your buddies in the duck blind. Breeding for the qualities that make retrievers fantastic hunting companions and family members--temperament, intelligence, training ability, and style-- has resulted in her high caliber reputation. The fine litters she raises, and the many awards she and her dogs have won, are all proof of her success.

Country Fowl Retrievers offers breeders a range of labrador types: Malachi Yellow Lab, Koda Yellow/Fox Red Lab, and Trigger Black Lab studs. Our blood lines will exceed your every expectation.

We also accept shipped semen if you only need those breeding services. We have experience and success with artificial insemination (AI), especially when the owner leaves a bitch so we can monitor her cycles. We will make her as comfortable as possible so her experience is fruitful instead of frightening. To learn how to have frozen semen shipped and how we can help with breeding, call or text Kimberly at (541) 212-2474.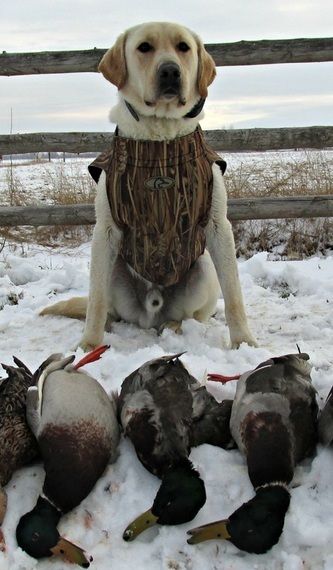 Our featured stud: Led By the Sky Malachi
Malachi is an AKC and UKC yellow lab, whelped in 2015. He is hardworking and good looking. He marks very well, runs hard on his blinds, and always wants to please.  Whether he is on the field training, at a hunt test, or working during hunting season, he is all business! He has a great temperament, intelligence, training ability, and style. He exhibits amazing drive, can think through any hunting scenario, and is the most dependable dog to have next to a hunter in a duck blind: steady on the line and great at hunt test or hunting.

Malachi is also a very calm and laid-back family dog who just happens to love to hunt. He loves playing with the kids, but he's all business when it's time to train.
Best of all? His pups show the same fine attributes as their sire.

Malachi has obtained a Junior Title and his Senior Title and is going for his Masters Title, obtaining the 3 Master Pass this spring. If you have any questions about breeding to Malachi, contact me. I'm Kimberly Bertalotto, and I'm proud to say I bred, raised, trained, and still own this fine stud. Let's discuss how you can get your own fine stud dog, bitch, or litter from this useful pedigree line. Call or text me at (541) 212-2474, or send an email to
countryfowl_kim@aol.com
and I'll respond at my earliest opportunity.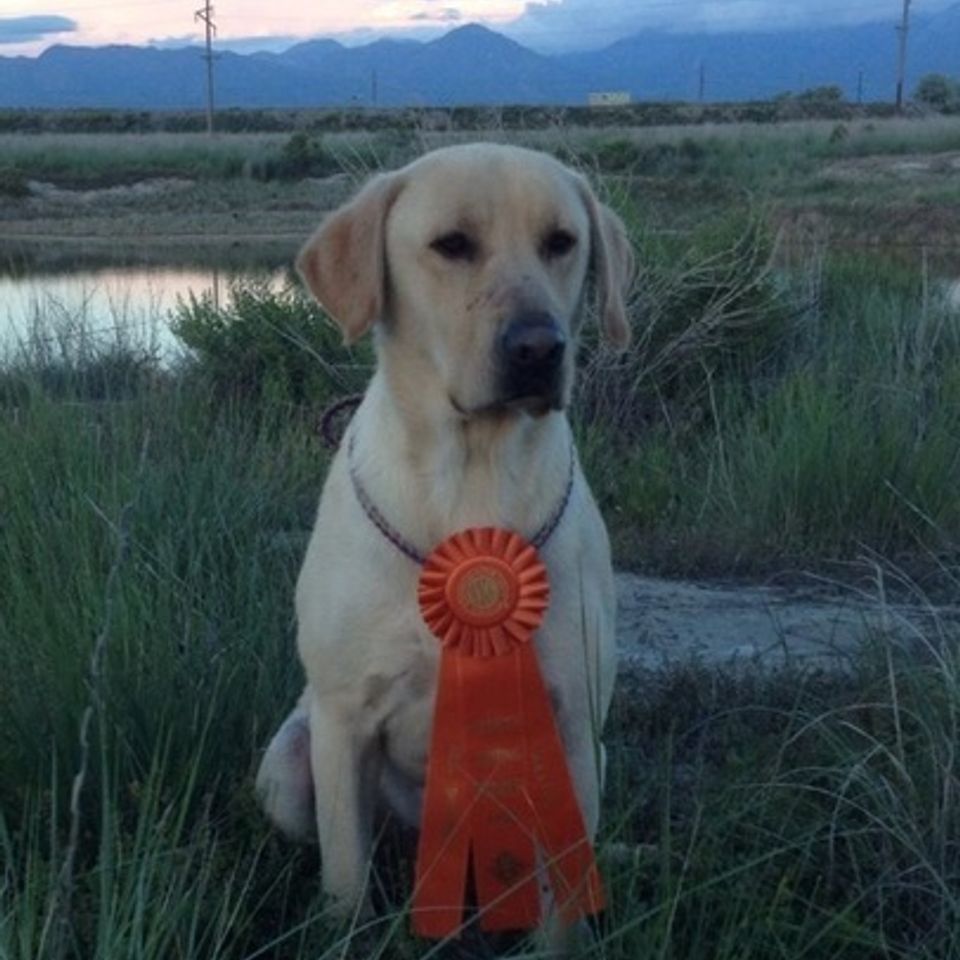 Health Clearances
HIPS: OFA- LR-212992G40M-VPI Good
Elbows: OFA - LR-EL66471M40-VPI Normal
CERF: Normal
EIC (Exercise Induced Collapse): Clear
CNM (Centronuclear Myopathy): Clear
DOB-9/30/2011
Weight-75 Lbs
"I got an amazing dog from Country Fowl Retrievers. Best of the best breeder in my opinion."